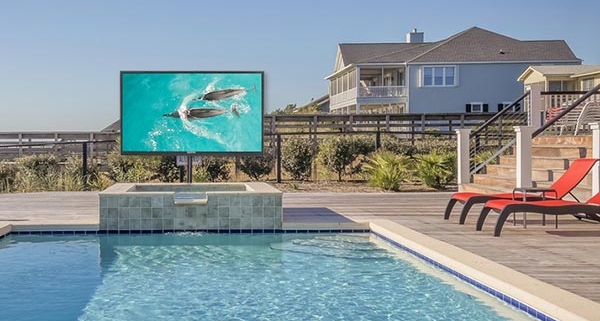 Although outdoor TVs can be expensive, some people find them worth the investment. Most people don't have the space or budget to set up an outdoor TV. Is an outdoor TV worthwhile or a waste?
Outdoor TVs, much like outdoor projectors, are great if you have an outdoor area that can be used for entertainment.
It doesn't matter if you have a patio and furniture, a TV or you just enjoy entertaining outside so it would add to the ambience. There are many things to consider before making an investment in an outdoor TV.
Do I really need an outdoor TV?
An outdoor TV is a great investment. It might be used for entertainment, to keep your children occupied while they play, or to cook on the grill. It doesn't matter what reason you have, it is important to understand what to expect and how best to maximize your money.
Thanks to OLED, HDR and high resolutions such as 4K, indoor TVs are becoming better each year. Outdoor TVs have not been left behind, however. Outdoor TVs are often slower than indoor TVs to display the latest technology. Outdoor TVs with this technology are more expensive than indoor models.
It may be worth it if you are willing to spend a bit more to get the best product and feel that it would complement your outdoor space (but you need to consider whether you will actually use it enough to justify the cost).
Is it safe to place a TV outside?
When buying a TV to be used outdoors, there are two major issues you need to think about: security and weather. Let's begin with the weather.
There are several ways you can ensure your TV is safe from damage in adverse weather conditions. This is possible by purchasing a TV specifically designed for outdoor use. Outdoor TVs are usually waterproofed and have a bright display that can be seen in direct sunlight. However, these TVs are typically heavier and more costly than indoor models.
Another option is to buy a regular TV but store it in a weatherproof case. This will mean that the TV is not used in rain or snow, which may be a problem in areas where it gets very cold or hot. This has the advantage that you will spend less money on your TV, and it might even look better in certain situations.
If you have the money, we recommend that you buy a TV designed for outdoor use. This will ensure that your TV is protected from the elements, even when it gets crazy. You don't need to seal your TV when it's not in use. Even if your patio is covered, this principle applies. There are other dangers than rain, such as insects and temperature variation. It all depends on where you live.
Security is another important issue. It is a smart idea to make sure that your outdoor TV is hidden from the view of passers-by. It's a good idea also to set up a security camera outside, just in case anything happens. You should make sure your TV is securely bolted to a wall and not just placed on a stand as you would do inside your home.
https://kontechdisplay.com/wp-content/uploads/2022/09/n4-t.jpg
375
600
Polly
https://kontechdisplay.com/wp-content/uploads/2022/08/logo.png
Polly
2022-09-21 08:04:18
2022-09-22 10:27:10
Do I need an outdoor TV?